Cellulite Treatment (CelluSkin vibe) - Anjou
CelluSkin
Come and discover the new body care technology from CelluSkin, designed to reshape and treat cellulite.
How does CelluSkin work?
This cellulite treatment is unlike any other. The innovative CelluSkin technology uses gentle acoustic waves to break down the cellulite forming molecules. CelluSkin therapy works by loosening the hard collagen bands that eventually press down on the fat cells while breaking up the trapped fat. By increasing lymphatic drainage and blood circulation manually, the body can naturally get rid of cellulite through the lymphatic system. This results in a smoother looking, firmer skin and improved skin texture and colour. Some of our clients have also noticed a circumferential reduction in the areas treated with CelluSkin.
How does treatment work?
Treatments take about 15 minutes per area treated (the back of both thighs is considered one area) and most treatments last 30 to 60 minutes in total. You will feel a pulsating sensation throughout the process that most clients compare to a "deep massage".
How many treatments are needed?
To see a marked improvement, 8 treatments are required. These can be divided over 4 weeks, so 2 sessions per week. Some clients may need more sessions to achieve the best results. Afterwards, it is recommended that you follow up monthly to maintain your results. At the time of your consultation, you will meet with a licensed technician who will evaluate the areas involved and recommend a treatment plan based on the level of cellulite and their professional experience.
What are the risks and side effects?
The side effects are temporary and can sometimes result in swelling, inflammation or bruising.
What results can I expect?
Results include a reduction in the lumpy appearance of the skin, as well as an improvement in the texture and firmness of the skin. In addition, some clients will notice a circumferential reduction in the treated areas. Clients are weighed, measured and photographed prior to treatment and then two weeks after completing treatment to monitor progress. Results may vary depending on the individual.
Here are the possible results after a series of celluskin treatments:
Reduction in the production and appearance of cellulite
Decomposition of larger fat cells
Restoration of connective tissue
Improvement of muscle tone
Improvement of skin elasticity
Promotion of lymphatic drainage (helps eliminate toxins and waste products)
Improved blood circulation
Increased production of natural collagen
Reduction in the appearance of stretch marks and scars
Firmer and smoother appearance of the treated skin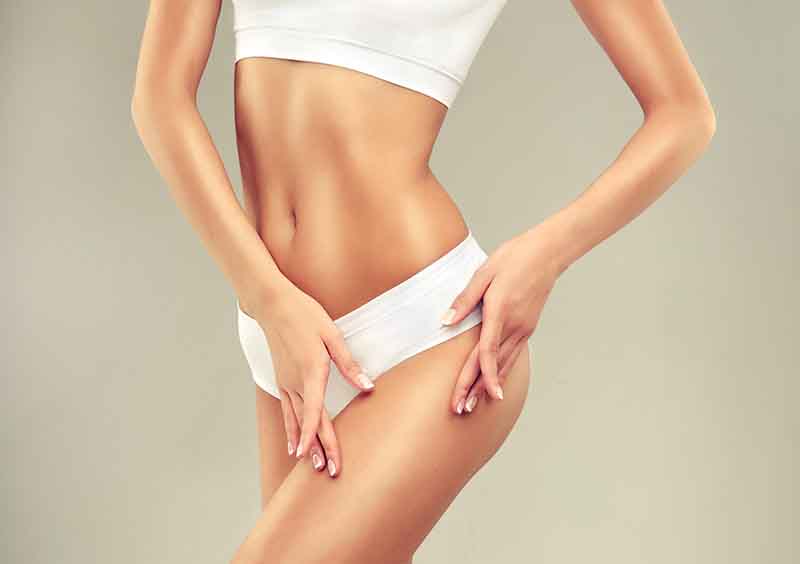 CelluSkin therapy is a treatment that can be used to treat cellulite and reshape the body.